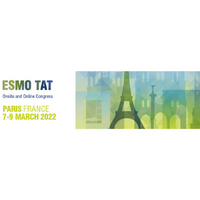 The ESMO Targeted Anticancer Therapies Congress 2022, known as "The Home of Phase I in Oncology" will offer participants a glimpse of the future of targeted anticancer therapies.
This year's event will be a hybrid congress, taking place onsite in Paris, France, on 7-9 March 2022, and online, through a virtual platform.
TAT is the premier international meeting focusing on promising new anticancer targets and agents, with a particular focus on those in early phase clinical development.
Stakeholders from academia and industry will discuss with clinicians, researchers and regulators the global dissemination of knowledge and clinical research expertise in the field of innovative cancer therapeutics, to the benefit of cancer patients worldwide.
Info, programme & registration: https://www.esmo.org/meetings/esmo-tat-2022