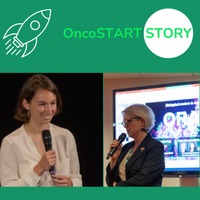 08 Jul

OncoSTART Story
From the laboratory to the first steps in Entrepreneurship
Winners of the MATWIN program ("Best Translational Innovation") and the OncoSTART Showcase (Prize for Innovative Business Creation), Fanny Jaulin and Diane-Laure Pagès respectively future CEO and CTO, of the start-up ORAKL, tell us their support pathway through the OncoSTART device.
Briefly tell us about the ORAKL business plan.
ORAKL develops biological tumor avatars of each cancer patient. Used in the clinic, they allow personalized medicine of the "functional" type, identifying the effective treatment for each patient. They are also excellent tumor models for accelerating the development of new drugs for the patients of tomorrow.
Through OncoSTART, you have benefited from support complementary by the "OncoEntrepreneur" program and the "MATWIN program". How do you judge the contribution of this support for the development of your project?
Beginners in entrepreneurship, OncoSTARTUPPER allowed us to have an overview of the issues associated with the launch of an entrepreneurial project. The training courses of the OncoEntrepreneur program were extremely rich, allowing us to access the expertise of consulting firms in all areas and stages of biotech/medtech business creation. We are very grateful to the mentors who accompanied us on these coaching sessions specific to our project. As part of the MATWIN program, we have benefited from the feedback of an exceptional international "board" of pharmaceutical groups and investors, and from coaching with experts: these exchanges have been very valuable in structuring a solid and competitive business model. . Finally, the MEET2WIN convention has allowed us to effectively gain visibility with a large network of partners and investors, with whom we are now talking about the continuation of this entrepreneurial adventure.
What do you think are the strengths of OncoSTART?
The complementarity and richness of the different programs support offered by OncoSTART were fundamental in the development of our project which had just come out of the laboratory.
OncoSTART also brings together an excellent network of investors, partners, experts in oncology entrepreneurship. In barely 6 months, the system has thus been a tremendous accelerator for the development of our project and our network by putting us in contact with the right people. In addition, these interactions are favored by an extremely benevolent atmosphere.